This Evolution of Exchanging Vows Gives Us All the Feels
Marrying into a family? Your wedding should be about more than you and your partner.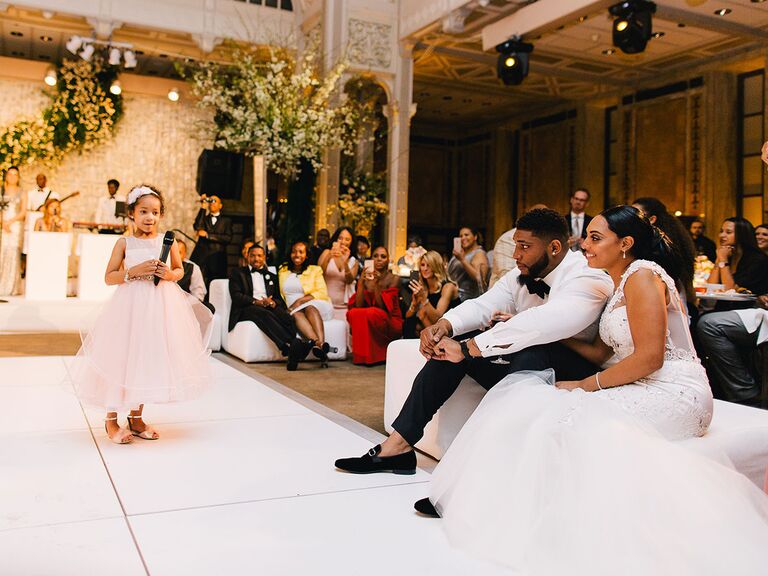 Weddings are emotional for just about everyone, that's a fact. Two people have found each other in this crazy world and they're committing themselves to each other for life. But when children are involved, the weight of that commitment takes on a whole new level of sentiment.
Every situation is different, but one thing is the same: The commitment that is being made to your partner needs to be made to their child (or children) too. Most of all, they should feel included on the wedding day. One of our favorite ways to do this? Writing vows catering to your relationship with your new stepson or stepdaughter. It shows how seriously you're taking your new role in the family and it will be, without a doubt, a lifelong memory added to a day of very special events. Here's a few examples just to show you how it's done:
This California wedding, in which the groom knelt down to the bride's five-year-old daughter and said: "I vow to always be fair and honest with you. I promise to support you in every way I can. I promise to always hold your hand and brush your hair when you ask me to. I promise to tuck you into bed every night. I vow to show you how a man should treat a woman through my relationship with your mom. And above all else, I vow to protect you, care for you, and love you 'so big' forever."
In Brazil, another groom did something similar where he presented the bride's daughter with a ring and asked if he could "be her dad forever." (Cue the tears.)
Earlier this year at The Knot Dream Wedding, Devon Still presented a separate set of vows to his six-year-old daughter, Leah, and his now-wife, Asha Joyce, while the three held hands at the altar. Then at the reception, the couple surprised the crowd with a choreographed family dance after the music unexpectedly cuts out and Uptown Funk takes over the speakers.